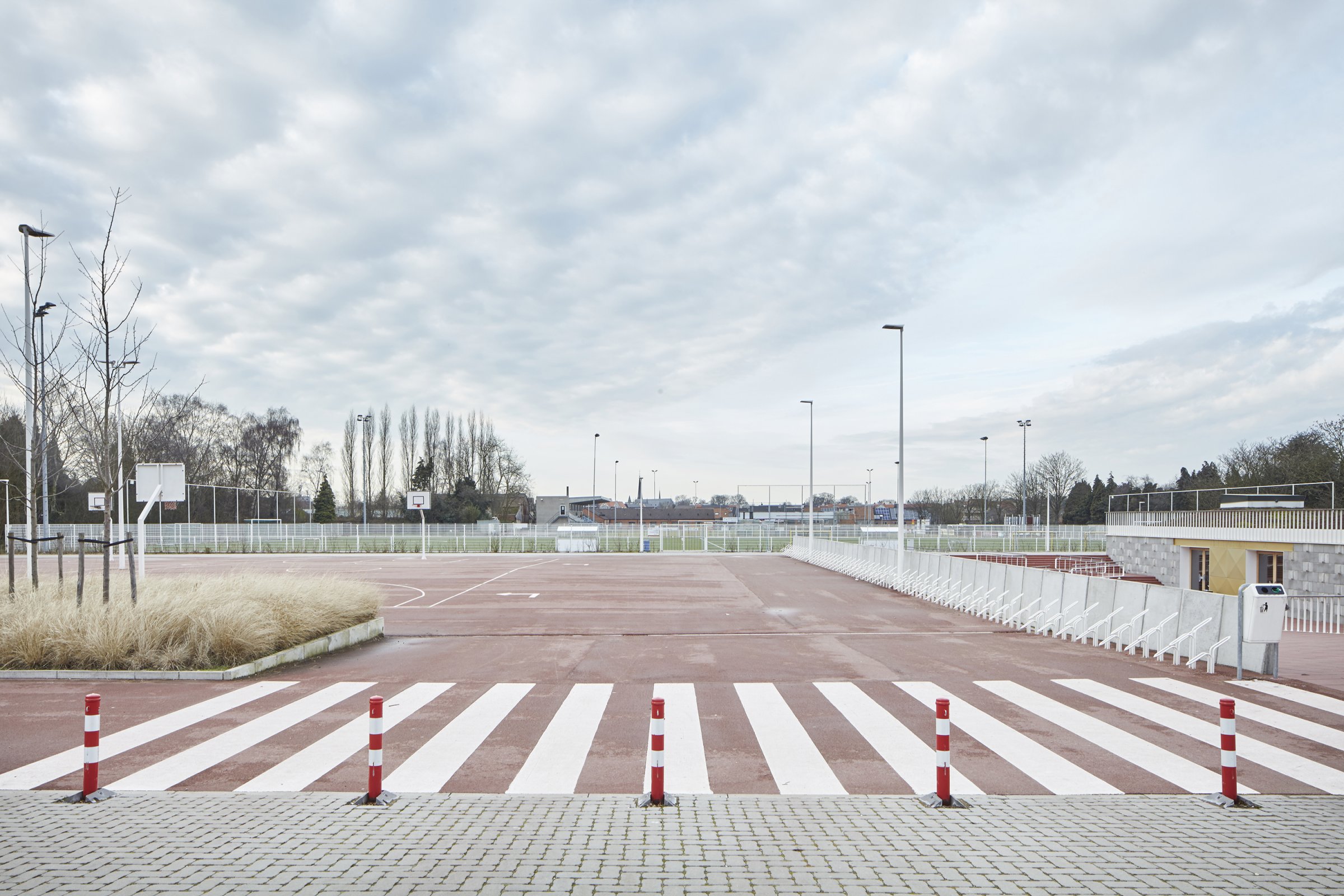 The existing municipal sports hall and swimming pool sit in the middle of a large housing block. AG Kontich organizes a competition for a new multi-purpose hall of 1000m². The program is simple, the budget alike. A divisible hall with kitchen/ storage/ bar/ cloakroom and sanitary facilities are needed, a fixed stage with backstage and two separate rehearsal rooms for local bands as well. Our assignment is extended by the construction of a synthetic grass pitch and by researching the integration of a large underground buffer basin.
Multipurpose hall, parking and sports fields
Kontich-Belgium
Closed competition
2010-2015
Client: AG Kontich/Waterlink
Technical engineering: Bureau Bouwtechniek
Structural engineering: Planet Engineering
Landscape: Stefan Morael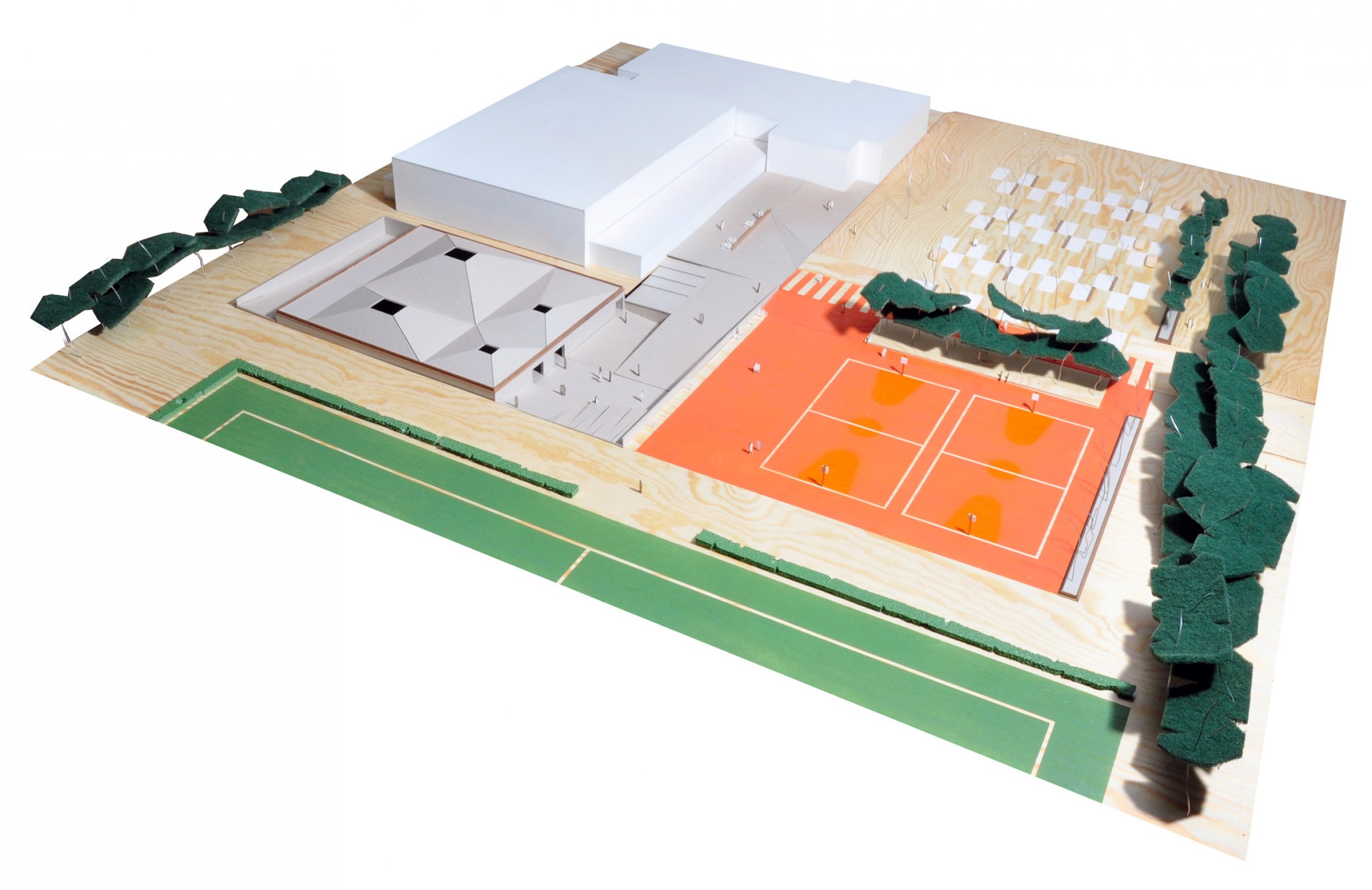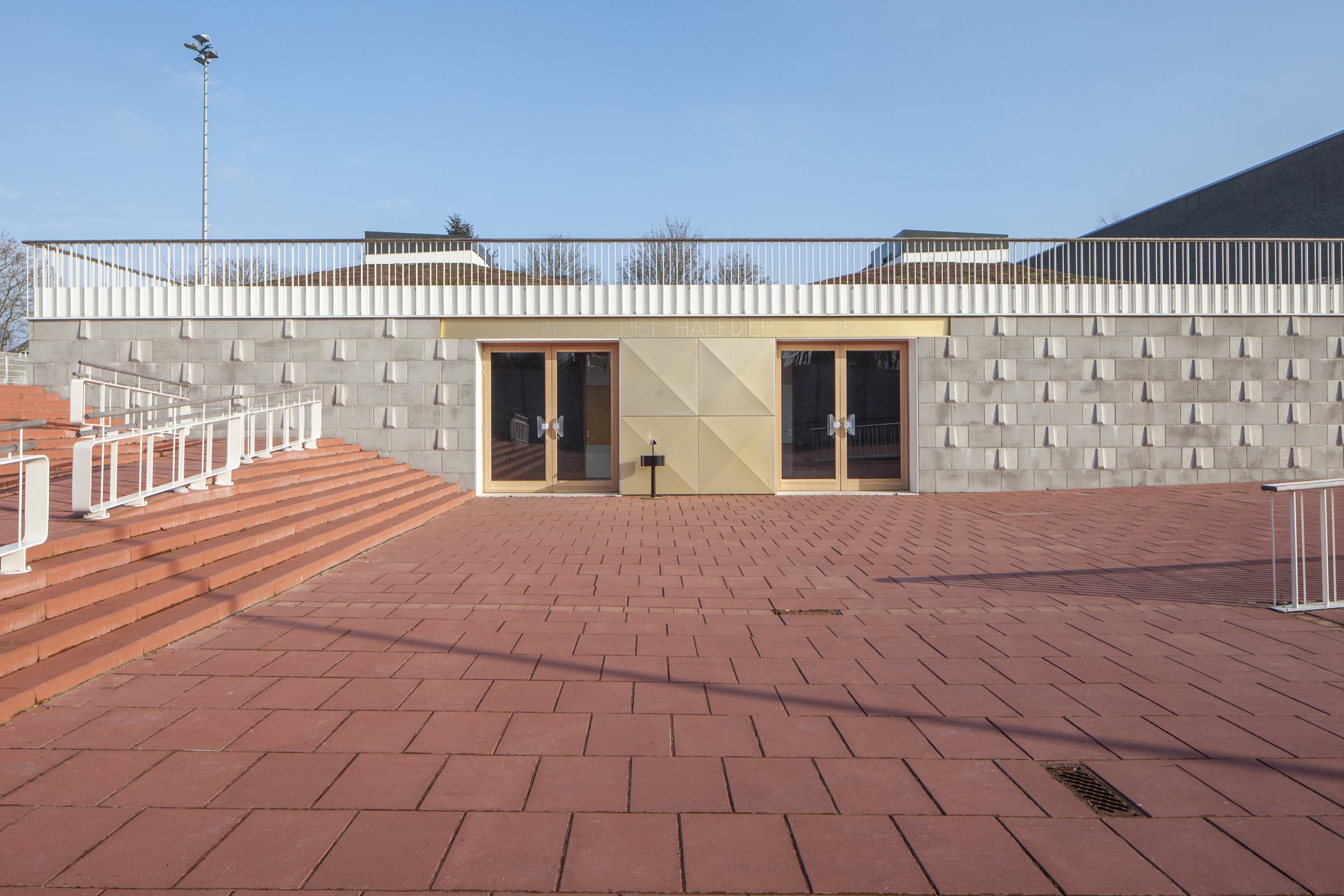 The proposal for the extended project site reorganizes the existing and new buildings, sports fields and car parks to a consistent spatial whole. The impact of traffic and pavements is pushed back to a minimum, making room for nature. On the ground level, the hall shows as a series of green mounds, shaping an artificial landscape. A sunken courtyard organizes the entrance, provides the new building with a facade and dramatizes the existing differences in level in terrain. The building is conceived as a pleasant bunker, made up with tough materials and a festive ceiling.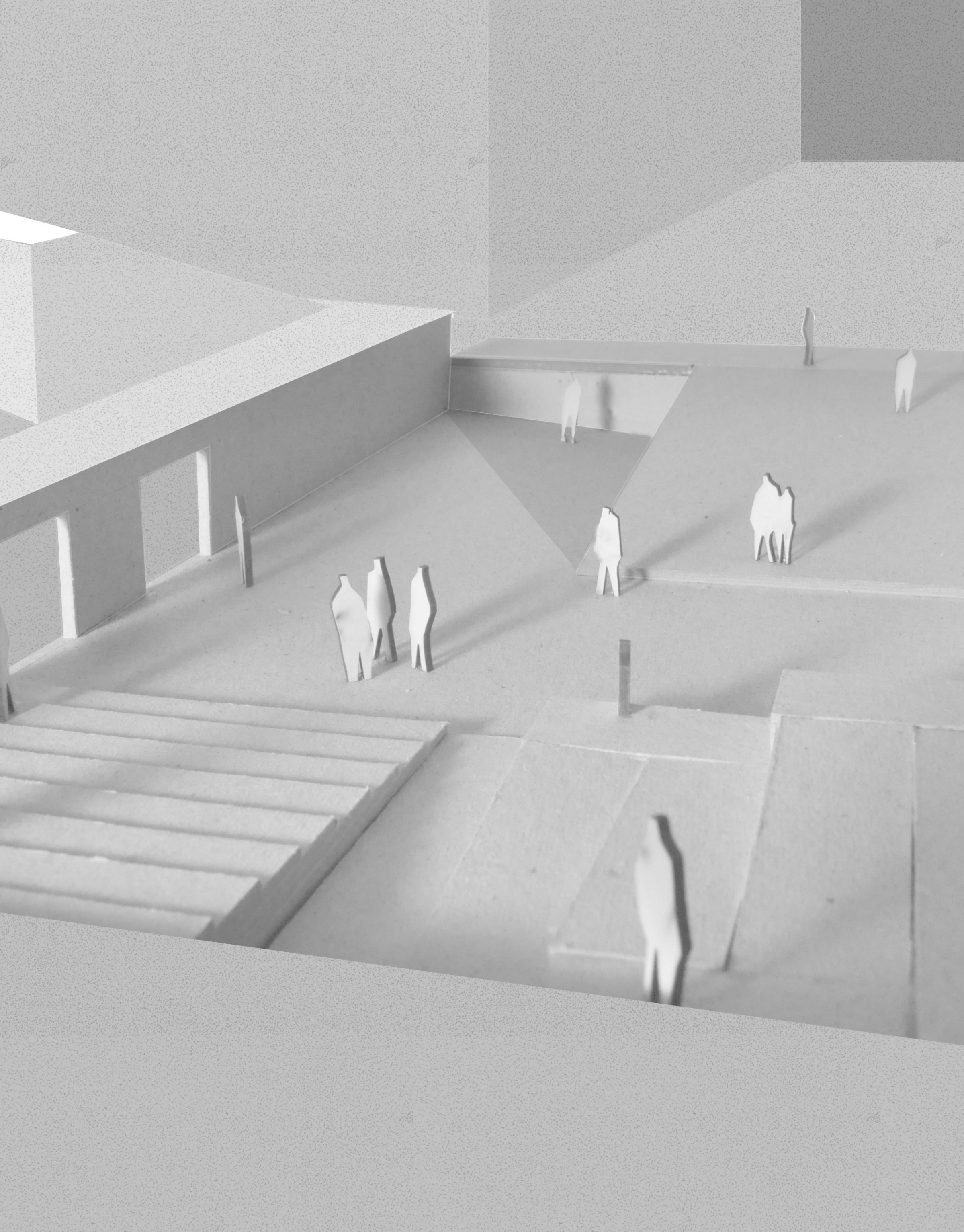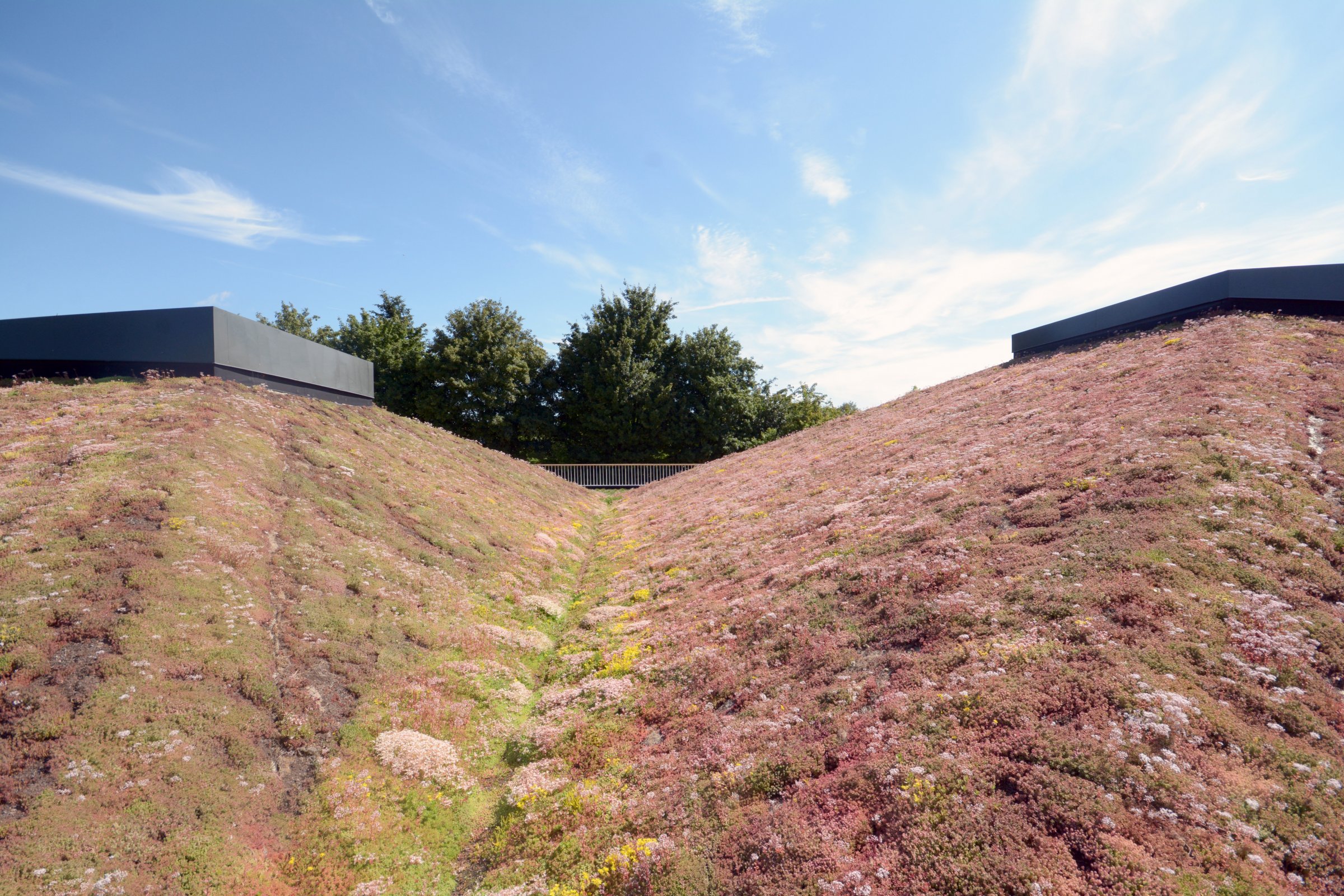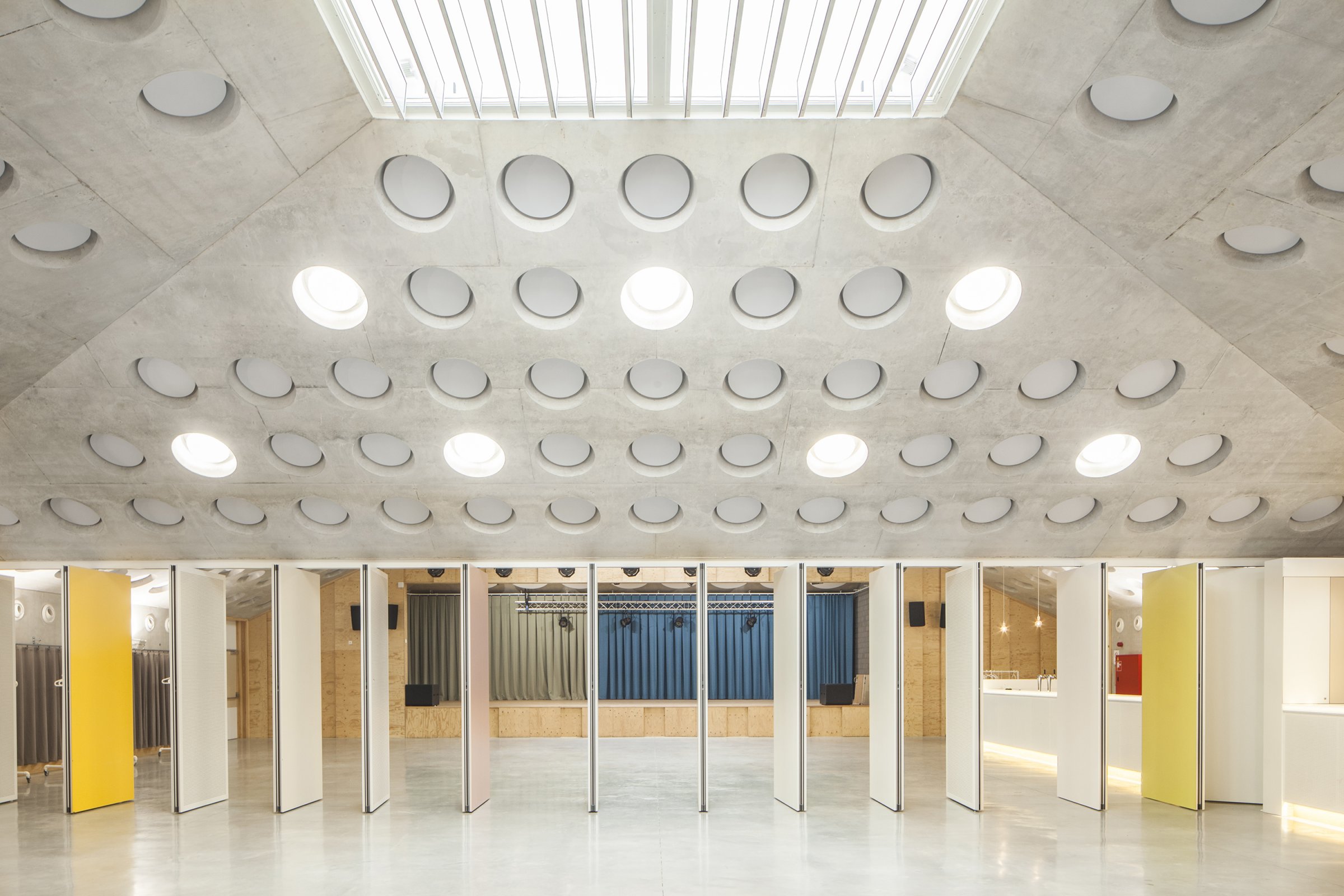 Not only does the building meet the passive standards, the entire layout of the surrounding site is designed by keeping extensive sustainability criteria in mind as well. The existing green structures are reinforced and made more visible. The entire design of the public space, including the parking with natural and water-permeable materials and a phased water buffering and infiltration system, aims for a greater scenic quality. The recessed building has a high degree of inertia, the thermally accessible construction of concrete makes the building less susceptible to fluctuations in energy demands. The green roof allows for rainwater buffering, cooling itself down by evaporation and integrating into the landscape. Energy , produced by the warmth of the users, is stored by a heat pump and subterranean system under the building, to be re-transferred to the building when in need of additional heating. In Belgium, this the first passive hall of its kind. The public building is uncomplicated, vandal-proof and has a limited set up, without ending up meager. The hall becomes a public living room, welcoming people in an inclusive and integral way.